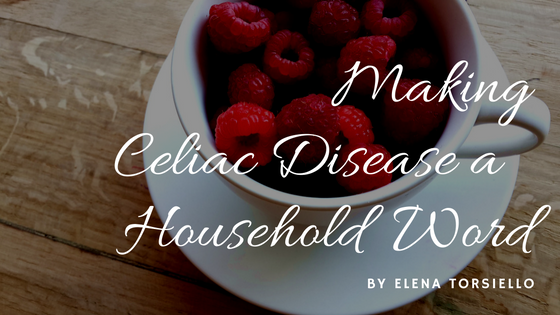 Eighteen years ago I was diagnosed with Celiac Disease. I did not know that my life would change for the better. Yes, I did say for the better. I was told that I would have to go on a little diet but no this is a life changing diet. The world of celiac disease opened another chapter in my life. Not only did I have to change my diet but I made such unbelievable friends and a celiac support family that one could only dream of. 
Since my diagnosis, I have been very active in promoting celiac awareness. 
Since I was an ESL teacher for more than 30 years I decided to write a children's book that explains what Celiac disease is and how to cope on a gluten free diet.  It is called "Willie Villie Meets Casey Kramps in Sprueville: A Book about Celiac Disease." I wanted to write a book that was educational, inspirational and humorous. The illustrator is my friend and business partner, Eileen Rothstein who is a former resident of East Windsor. It is my mission to help as many children and their parents understand this autoimmune disorder. I have done numerous events to promote Celiac awareness since my diagnosis and published book.
Book signing and face painting events:
·        Celiac Education Day at CHOP - This is a day of education with workshops, vendors and gluten free samples and face painting for the children. This is an annual event check website for next year's date.  
·        Gluten Free and Allergen Free Expo for the last two years located at the Meadowlands in NJ- It is usually in September or October. Look for the upcoming event this year.
·        Celiac Fundraiser for CHOP at Pasta Pomodoro in Voorhees, New Jersey for the last few years.
·        Book signing at NJ Education Association Teacher's Convention in Atlantic City.
·        Book signing and reading the book to children at the Hamilton Township and Willingboro libraries.
·        Grand Opening Book signing and face painting event for Kumon in Manalapan, NJ
·        Attendance at Celiac Sprue Association Conferences in New York, New Mexico and Florida.
·        Book signing and speaker at the Arts and Author Extravaganza at the Mansion in Main Street in Voorhees, NJ.
·        Participated in the Twin Rivers Day in East Windsor, NJ. -Book signing and face painting for the children.
·        Book signing and face painting for the Appetite for AwarenessSponsored by The National Foundation of Celiac Awareness in Philadelphia
·        Read my book to different classes at the elementary and middle school for Dr. Seuss Day in Willingboro, NJ school district.
·        Book signing at the former health food store Deliteful Foods in West Windsor, NJ for their Gluten Free Food Tasting Event.
·        Interviewed on a radio show called Ms . Boss Radio Show-Spoke about my journey living gluten free and how to help others.
.    Appeared on "In the C-Suite" show on Princeton Community Television.
My book was featured in the CSATimeline Magazine sent to all members.
It's also listed as a feature children's book in the Center for Celiac Disease at CHOP (Children's Hospital of Philadelphia)
My book was also made into an 11 minute animated movie and I do all of the voices in the movies since I was trained as a voice talent.
If you are thinking of doing a children's event and would like me to come and read my book or be a speaker or need face painting do not hesitate to contact me at ElenaT251@aol.com or 609-516-5167.
I am also very involved with the Seashore Celiac Support Group Chapter #96. This is a great support group that has an annual Celiac Picnic. It is a great time! You will be eating gluten free foods and also many vendors will be donating many gluten free foods for our raffle. We encourage anyone who is a celiac to attend. All are welcome!
For more information go to www.seashoreceliacs.orgabout the picnic or the support group. Linda Pickett is the coordinator of this support group and welcomes all inquiries.
Great resources for Celiac Disease:
www.beyondceliac.org formerly The National Foundation for Celiac Awareness.
I am also involved in a non-profit organization that helps women in distress or in crisis in their lives called Exhale Women's Fellowship. We are always looking for donations to help women who can't pay their bills or need housing etc.  We have several programs like the Adopt a Mom, Women of Distinction, Mentoring and Marriage and Family University. We provide workshops that help women learn skills to obtain employment. We are always looking for donations to bless more and more women.
You can get more information at www.exhalewomensfellowship.org.