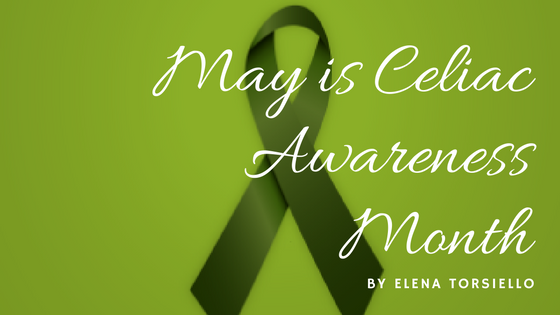 I can't believe that it is almost May and we will be celebrating Celiac Awareness Month. More and more people are being diagnosed and numerous food vendors are jumping on the gluten free band wagon. It is predicted that the gluten-free industry will hit $15 billion this year. 
Wow, we have come a long way since I was diagnosed 17 years ago.
Doctors are now testing more children and adults for this autoimmune disorder. Hollywood has given much attention to the gluten-free lifestyle with many stars following it to lose weight and feel healthier. But in reality, our diet has much more fat and more calories. The weight loss may be because the diet is so restrictive and one is cutting out many carbohydrates and processed foods from their diet. The medical community has also expressed that a gluten free diet should not be something anyone should go on unless they are a Celiac because not only is it quite expensive but it lacks essential nutrients like fiber, folate, niacin and zinc which is needed to be healthy. If someone is gluten sensitive then they should cut their wheat consumption and see if they feel better but not go on a totally gluten-free diet. 
So unless you are diagnosed with Celiac disease or have a diagnosed gluten-sensitivity, I do not know why anyone would want to be on a restrictive gluten free diet. Not only has there been an increase in foods and food vendors but also there have been strides in research for Celiac disease.There are clinical studies being done on a possible drug for Celiac disease right now. We don't know when this will happen but it is comforting to know that it could be something for the near future.
So what can you do to promote Celiac Awareness this month?
Do you know anyone who has just been diagnosed with Celiac disease? When you are first diagnosed most patients are lost and do not know what to do.
Maybe you could call them and give them some support or you could also take them grocery shopping. This is not a little diet but a life changing diet.
Help someone to join a support group or suggest a new book about Celiac disease or a cookbook for them to read. There are so many new products you could suggest that you tasted for them to try.
You could also suggest a good doctor to help them feel more comfortable with their medical care.
If you have a child that was just diagnosed you need to go to the school nurse and inform the nurse that your child needs to eat a gluten free diet. You should bring in some treats when there is a birthday so your child will not feel different than the rest of the class. 
There are so many web sites that will give you great information such as www. beyondceliac.org  which is the web site for the National Foundation of Celiac. This is an excellent source of information for anyone who has celiac disease.
I am so excited to tell you that my children's book Willie Villie Meets Casey Kramps in Sprueville: A Book About Celiac Disease is now a short animated movie.
We have come a long way since my diagnosis and I never thought that there was going to be a month dedicated to Celiac awareness. We still have a long way to go to get prescription drugs labeled and more research needs to be done but witheveryone educating others we can and will make more strides in the future to possibly cure this genetic disorder known as Celiac disease.